The Onset S20 is the most recent high performance addition to the Onset family. The Onset S20 has an ever growing customer base, using the device for its superb quality, flexibility and finish.
The device prints edge to edge and the 11 pin positioning system allows users to print single and double-sided work on a variety of media sizes. In addition, the Onset S20, in combination with Uvijet inks, also features gloss level control to produce finishes from matt, through satin to high gloss depending on application, bringing massive versatility in the range of products that can be printed, e.g. display POP, exhibition graphics, backlit/frontlit displays and outdoor signage printing.
With up to an amazing 758 million drops of ink jetting per second on the Onset S20 and two UV curing lamps providing for near-instantaneous curing, the printing quality and results are so impressive that it is hard to tell the difference between Onset, screen and offset print.
A new automated material handling system is also now available for the Onset S20. Fujifilm, with a strong heritage in screen printing through the Sericol business, know from experience that the vast majority of screen print machines are still manually loaded, and have invested in making sure that this Onset system is designed around the customer, and does not detract from the ability of the Onset to switch between jobs quickly. Printers can continue to use lots of different substrates individually for one off printing jobs, or enable the handling system to run a high volume job with minimal intervention.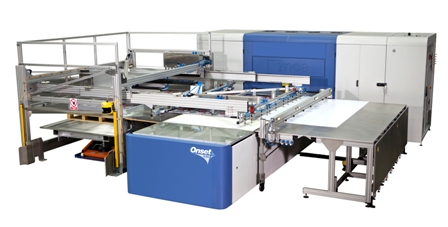 "We have worked closely with Inca over the past year to ensure that the customer's needs take priority," comments Jeffrey Nelson, product marketing manager for wide format inkjet systems at Fujifilm in the US. "The handling system is designed to optimize the timing of high volume print jobs, and will potentially increase material handling efficiency levels by another 36%, which is a huge benefit to the printer and his customer. The system is extremely simple to operate, with assisted loading and automated unloading, and we have had very positive feedback from customers who have installed the automation system."